EntoFix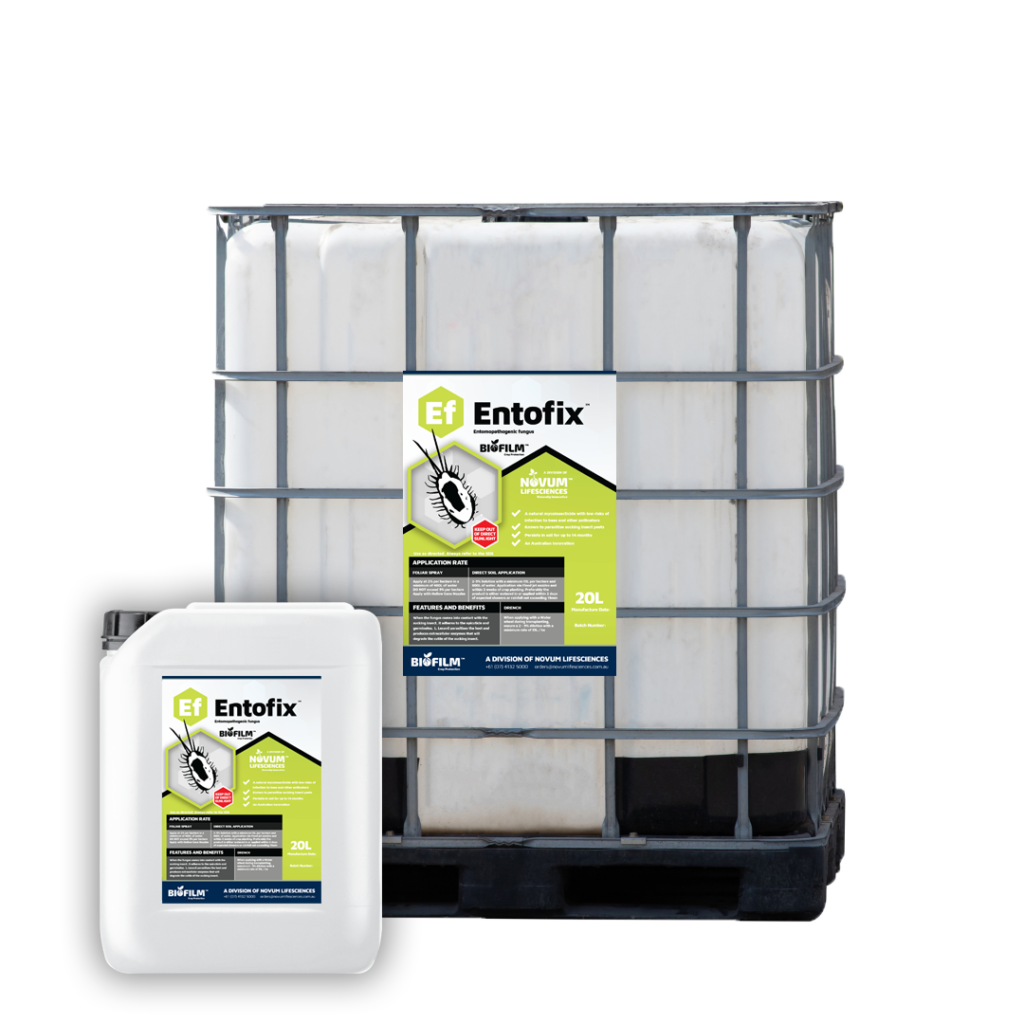 For the management of economically important soft scale insects:
Does NOT create resistance, resurgence and residue problems.
Does NOT affect the natural enemies, so offers long-lasting pest control
EntoFix is a biological inoculant (mycoinsecticide) based on a strain of naturally occurring entomopathogenic fungus Lecanicillium lecanii. It is useful for the management of economically important soft-scale, sucking insects such as aphids, mealy bugs, thrips and whitefly.
Lecanicillium lecanii is known as the "white-halo fungus" because of the white mycelial growth on the edges of infected scale insects. It was first reported in 1939 as is known as "the farmers friend".
In addition to managing soft scale pest insects, Lecanicillium lecanii is a plant beneficial and will assist with overall plant health and growth.
The product contains spores and mycelial fragments of Lecanicillium lecanii.
EntoFix can be used alongside chemical fungicides however, we recommend a period of 7+ days from application of EntoFix to enable the beneficial fungi to establish on the plants before you apply a chemical fungicide.
Entofix contains naturally occurring entomopathogenic fungus:
EntofixTM is an organic addition to IPM programs
EntofixTM can be used for the management of economically important soft scale insects
Is highly specific to its hosts and as a result will help to increase the productivity by containing the insect pests
Reduction in entry points for pathogenic diseases to enter plant structure
Does NOT create resistance, resurgence and residue problems
Does NOT affect the natural enemies and so, offers a long-lasting pest control
Low risk to infection of bees and other pollinators
This product is classified as NON-HAZARDOUS.
Keep in a cool shaded area at all times. Do NOT expose to direct sunlight.
Do NOT swallow or inhale. Wash hands after use. Rinse eyes or mouth if contact is made.
Chemical Stability: Stable under normal temperatures.
Reactivity: This product is unlikely to react or decompose under normal storage conditions.
Conditions to Avoid: Direct sunlight, lack of ventilation.
Hazardous Polymerization: Hazardous polymerisation is not possible.
Organic Matter
Apply to soils with 2-4% Organic Matter for best efficacy. The fungus can persist in soil for up to 14 months.
Direct Soil Application
2-5% solution with a minimum 15L per hectare in 800L of water. Application via FloodJet nozzles and within 2 weeks of crop planting. Preferably the product is either watered in or applied within 2 days of expected showers or rainfall not exceeding 15mm.
Foliar Spray
Apply at 2% per hectare in a minimum of 400L of water. Apply with Hollow Cone Nozzles.

Initially apply fortnightly for 3 – 4 applications to establish the beneficial fungi in your crop. This fungi thrives in humid conditions but may be more difficult to establish in dry or sunny conditions.
Water Wheel Drench
2 – 5% dilution
NO withholding periods are required for this product.
Keep in a cool shaded area at all times. Do NOT expose to direct sunlight.
Available in: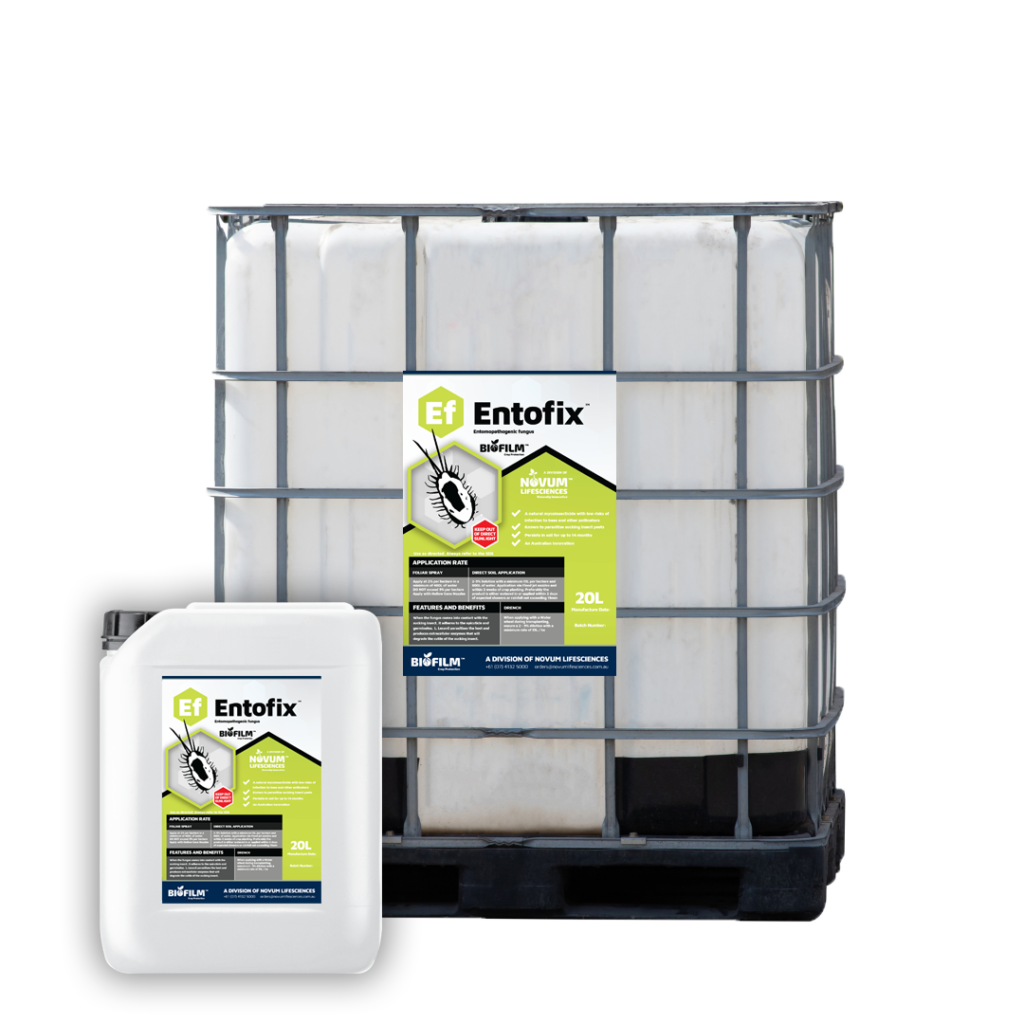 Safety Data Sheet:
Research reports:
According to the British Crop Protection Council "The insect-pathogenic fungus Verticillium lecanii … can be used in cucumber, tomato and some other protected vegetable and ornamental crops to control Trialeurodes vaporariorum [Glass house / Green house whitefly]. Repeated sprayings at weekly intervals can reduce infestations by approximately 90%, even when relative humidity is as low as 75%. In cucumber, rates of infestation by Frankliniella occidentalis [Thrips] as high as 60% have been observed. Integration with other biological control agents and fungicide treatments is possible."
Verticillium lecanii as a microbial insecticide against glasshouse whitefly. (cabdirect.org)
L. lecanii has been documented to infect B. tabaci (Zhu and Kim 2011) causing a good mortality (Xie et al. 2019).