LoliPepta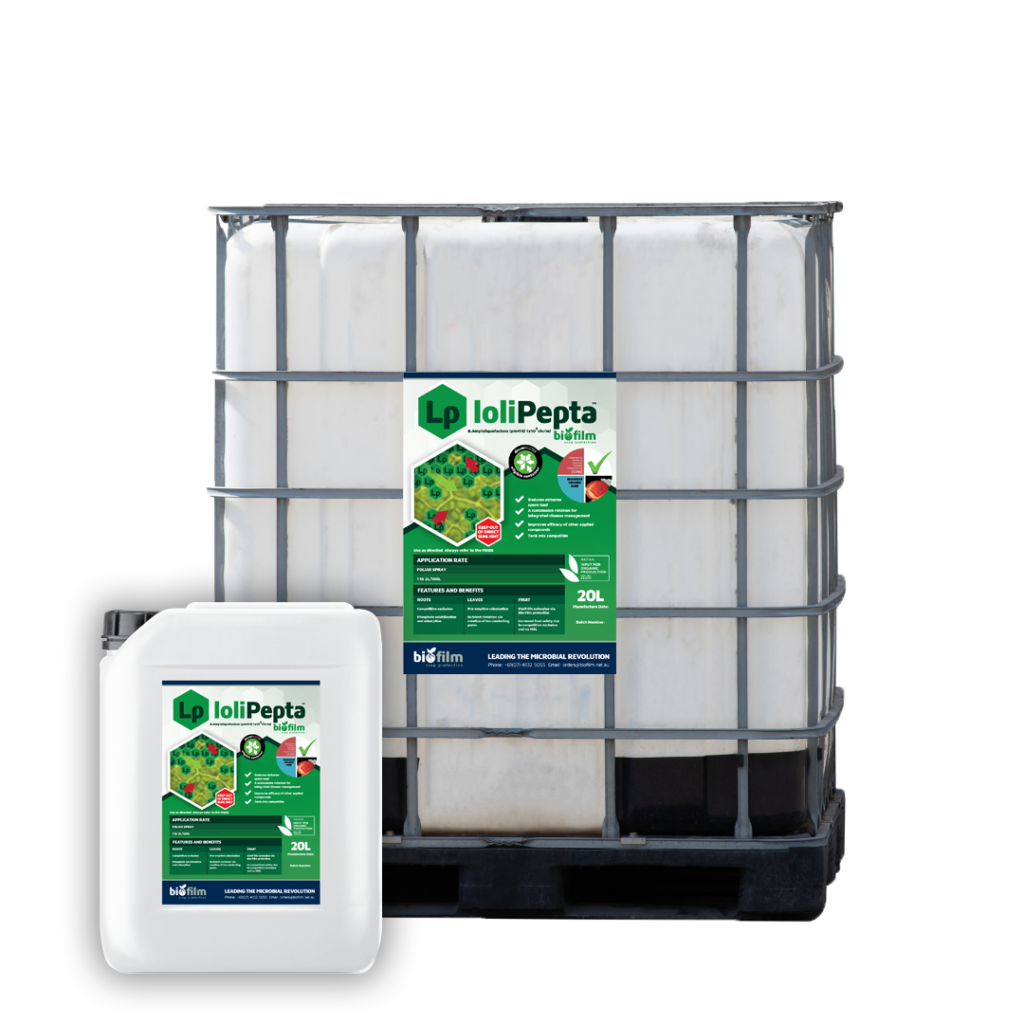 Activate plants' natural defence mechanisms:
Performs better than many copper-based products, without phytotoxicity or residues.
Safe for beneficial insects and bees.
Only 4 hour re-entry and can be sprayed up to and on the day of harvest!
LoliPepta helps to trigger plants' natural immune defence and is designed for use when the risk of bacterial pathogens is present as a result of humid or wet conditions that are conducive to the germination of spores or where there is a high aerial spore load from continuous cropping pressure.
LoliPepta contains endospores and culture broth of the bacteria Bacillus amyloliquefaciens. The endospores are tough, hardy, non-reproductive structures that reactivate and become vegetative when exposed to increased moisture, temperature and light.
Bacillus amyloliquefaciens produces a surfactant to disperse water droplets which reduces the wet/damp environment making the conditions less conducive for other spores to reproduce.
Compatible for tank-mixing / rotating with other registered products.
Apply in conjunction with Insecticides, Fungicides, Nitrate, Phosphate, Silica and Molybdenum fertilizers to increase their efficacy via active transport.
LoliPepta contains endospores and culture broth of the bacteria:
Bacillus amyloliqufaciens (strain pm 414)
Endospores germinate and attach and develop a bacterial colony on plant surfaces.
The pre-emptive colonisation by way of competitive exclusion of the leaf surface by the bacteria forms a physical barrier known as a BIOFILM DISEASE SHIELD. This structure forms a barrier that inhibits the infection of the leaf surface by pathogenic organisms that cause plant diseases.
The culture broth produced by the bacterial during fermentation have multiple modes of action and anti-fungal activity that also contribute to activity of the Plant Disease Shield. It creates a pathway for nutrient absorption, improved intra-cellular movement of applied compounds.
Induced plant immune response – induced resistance is a state of enhanced defensive capacity developed by a plant when appropriately stimulated called Salicylic Acid Immune Response.
Used for competitive exclusion on the leaf area, continuing to then form a Biofilm Disease Shield (physical barrier) of Lipopeptide antibiotics.
This product is classified as NON-HAZARDOUS.
Keep in a cool shaded area at all times. Do NOT expose to direct sunlight.
Do NOT swallow or inhale. Wash hands after use. Rinse eyes or mouth if contact is made.
Chemical Stability: Stable under normal temperatures.
Reactivity: This product is unlikely to react or decompose under normal storage conditions.
Conditions to Avoid: Direct sunlight, lack of ventilation.
Hazardous Polymerization: Hazardous polymerisation is not possible.
Foliar Spray
1L/100L or 2L /Ha + wetter and sticker
Spray to point of runoff
Apply weekly from early vegetative to fruit fill
Seed inoculation
Rates depend on the seeds – lower rates are required on larger seeds while higher rates are required on smaller seeds. It is important each seed has good contact. Please speak to an agronomist regarding your specific crop.
Apply before or early after the onset of wet or humid conditions that are conducive to germination of spores to enable colonisation to occur and the Biofilm Disease Shield to be formed.
LoliPepta is not mobile on the plant, so repeat applications as more vegetative material grows to ensure continued colonisation. Limit application late in the season.
4 hour re-entry.
Can be sprayed up to and on day of harvest.
Keep in a cool shaded area at all times. Do NOT expose to direct sunlight.
Available in: