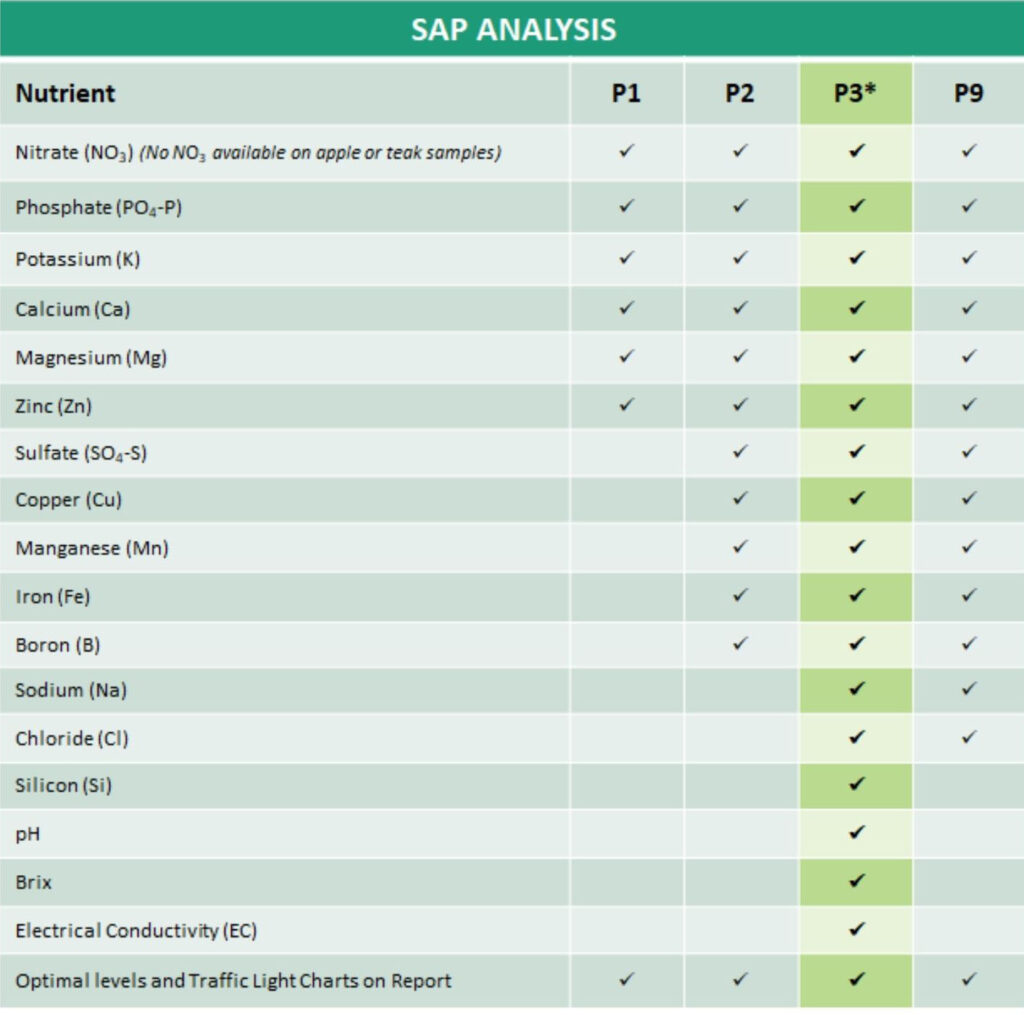 P3 Super Sap tests require 3 times the volume of sample. P9 requires 2 times the volume of sample.
Unfortunately we cannot complete these tests with insufficient sample volumes. If you're unsure, please contact us first.
Sap Testing
Our sap testing shows the level of nutrients available for metabolism in the sap flow of a plant. Undertaken during the growing season, sap testing enables you to correct deficiencies before crop loss occurs and improve your fruit set before harvest.
By responding to your crop's needs throughout the season, you can achieve your best possible yield.
It is important to remember sap analysis only provides one piece of the puzzle when you're trying to understand the cause of nutritional problems in your crop. Plant size, vigour and rate of growth should be observed and soil and irrigation water analysed to complement your sap analysis. This will enable you to form a more complete picture of the inter-relationship between the plants, their growing environment and your farm management practices. For quick, accurate and comprehensive insights into your plants health throughout the growing season we recommend a program of Sap & Soil Combination analysis.
Sampling programs
Testing provides the most benefits when it is scheduled and conducted as part of a regular, ongoing program that enables you to identify trends, seasonal changes and responses to any adjustments you are trialling. If you would like advice on developing a testing and analysis program for your farm, please contact us.
We can also help you to run methodical trials to establish and verify the efficacy of changes you are planning.
How to collect and handle sap samples
The accuracy of your results depends on how the sample is collected, handled and stored before it arrives at our laboratory, as well as our laboratory's testing methodologies and sample handling procedures. As such, we ask you to follow the sampling guide provided and to take due care with the packaging and delivery of your sample (see our recommendations in the Sampling Guide).
Samples received by
9 am Monday
9 am Wednesday
9 am Friday
Expect results by
COB Tuesday
COB Thursday
COB Monday